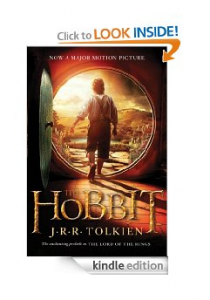 Well, the movie is coming out in a few days, so if you want to read or re-read [easyazon-link asin="B008ZRM4ZO"]The Hobbit (Movie Tie-In)[/easyazon-link] you can get it in Kindle format for just $3.  My husband was just ranting to me this weekend how he can't believe they made three movies out of the one book.  I had to remind him that that's how Peter Jackson makes his money ;-).  I want to go see the movie because it has two of my favorite British actors.
Book Description

J.R.R. Tolkien's classic prelude to The Lord of the Rings trilogy—now available in a movie tie-in edition.

Bilbo Baggins is a hobbit who enjoys a comfortable, unambitious life, rarely traveling any farther than his pantry or cellar. But his contentment is disturbed when the wizard Gandalf and a company of dwarves arrive on his doorstep one day to whisk him away on an adventure. They have launched a plot to raid the treasure hoard guarded by Smaug the Magnificent, a large and very dangerous dragon. Bilbo reluctantly joins their quest, unaware that on his journey to the Lonely Mountain he will encounter both a magic ring and a frightening creature known as Gollum.
Please note that Amazon changes their offers without notice.
Remember that you do not need a Kindle e-reader to be able to read this book. You can read it on your PC, iPhone, iPad
, Blackberry and Android. Just download for free the appropriate application to be able to do that.