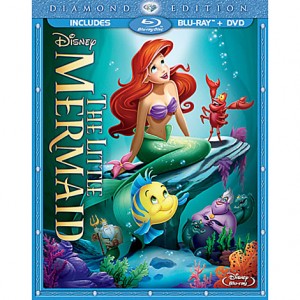 One of the most beloved Disney films, "The Little Mermaid" returns on dvd, fully restored and remastered in an all new 2 disc set this October! Though the first "The Little mermaid" dvd released years ago was just a barebone disc with non-anamorphic transfer, this one will have everything to fulfill every mermaid fan's desire! Right now there are a couple of different promotion Pre-Order options you can choose from.
First, DisneyStore is offering a The Little Mermaid 2-Disc Combo Pack with FREE Lithograph Set Offer – Pre-Order for $24.95 plus FREE Lithograph Set, PLUS UP to $20 off a future purchase Offer.  This is a pre-order promotional pricing offer.  Note sure how long it will last.
* Pre-Order The Little Mermaid 2-Disc Combo Pack by October 1, 2013 and receive an exclusive set of 4 Lithographs (10" x 14") while supplies last, and $20 off a future online purchase of $40.00 or more; or $10 off a future online purchase of up to $39.99. An e-mail will be sent at the conclusion of the pre-sale with a unique promotion code valid for a future online purchase made between October 2, 2013 – October 14, 2013.
Secondly, Amazon offers The Little Mermaid (Two-Disc Diamond Edition: Blu-ray / DVD in Blu-ray Packaging) for $27.86 (current pricing).  What is nice about this option is the Pre-order Price Guarantee! Order now and if the Amazon.com price decreases between your order time and the end of the day of the release date, you'll receive the lowest price.
You don't get the extras with this offer but it does give you the peace of mind that you are getting the rock bottom price when the item is released on Oct 1st 2013.