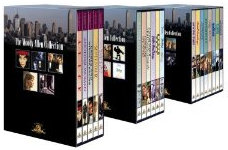 Amazon's Gold Box Deal of the Day is The Woody Allen Collection, Sets 1-3 (2008) for $64.99 (down from $149.99) plus free shipping!  As a bonus, you can save up to 57% on some of Woody Allen's most popular films.  Check those out here.
Set One:
Annie Hall
Everything You Always Wanted to Know About Sex But Were Too Afraid To Ask
Interiors
Love and Death
Manhattan
Sleeper
Stardust Memories
Bananas
Set Two:
Shadows and Fog
September
Crimes and Misdemeanors
Another Woman
Alice
Set Three:
Broadway Danny Rose
Hannah and Her Sisters
A Midsummer Night's Sex Comedy
The Purple Rose of Cairo
Radio Days
Zelig
This deal is valid for today only.  A great gift for a movie buff!