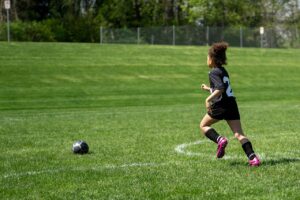 Do you have kids in sports? While it might be summer break right now, fall will come soon. You know what that means…so many expenses. If sports are among those expenses for you, read on to see how you can save money on kids sports.
Kids sports can become very, very expensive, especially if you have kids in club sports and extra especially if you have more than one kid in sports. Read the following tips to help you save money on this:
These Tips Will Help You Save Money on Kids Sports
Choose Affordable Sports
There's no way around it. Some sports are just more expensive than others. One way to save money is to opt to sign your kids up for sports that cost less.  Opting for sports that have lower costs associated with them will help to keep your costs down. Some sports (such as track and field or basketball) have less equipment than others and that helps to keep the costs down. 
Shop Smart
Look for deals on new or used sports equipment, shoes, clothing, etc. I'm a big believer of shopping at second-hand stores, online marketplaces, or community sports equipment exchanges where you can find gently athletic supplies at a fraction of the cost.
Borrow or Rent Equipment
If your child is trying out a new sport or just starting out, consider borrowing the necessary equipment. You can also find out if the sports program offers any equipment rentals. 
Carpool
My daughter has graduated from high school now, but she used to play competetive/club basketball and one of our big expenses was the gas money we had to pay out to get her to practices, games and tournaments all the time. We eventually wised up and started carpooling for practices with another family and that was great for everyone!