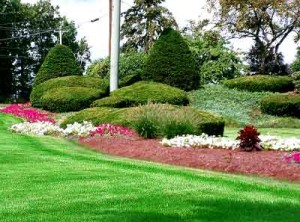 Landscaping is one of those things that I absolutely love doing and so does my husband. There's nothing better than working outdoors with my husband and feeling the hot sun on our backs. We not only love the finished product, but we love getting it there and doing the hard work ourselves. If you want to make your yard look as good as possible, but you're on a budget, I'm going to give you some tips that my husband and I have employed to save money on landscaping.
Go to Yard Sales
You can find a ton of fun landscaping items when you go to yard sales and you can get them cheap, as well. I've found flower bedding at yard sales, as well as edging shovels, etc.. Also, we've purchased things like slides and swing sets at yard sales, which the kids absolutely love.
We Do the Work Ourselves
Landscaping companies are insanely expensive, so we do all the work ourselves. Hard work never hurt anyone, it's free and it's great for you to get out and get some sun with your family. If you don't know how to do something, you can always look up tutorials on the Internet, as there are tons of them out there. It's a free source of powerful information you have right at your fingertips. If you want, you could also go to the library.
Always Keep Your Eye Out for Great Deals
My husband and I were out one day when we noticed a building in the city was being demolished. My husband had the idea to walk up to one of the workers and ask them what they planned on doing with all the bricks. The man explained to my husband that they were going to take the bricks to a local dump, so my husband asked if we could take some of the bricks off of their hands. The man went to talk with his foreman to see if it was ok if we took some and the foreman didn't mind at all. We then used the bricks to outline our flower bed, pool and the surround area around our trampoline.
We Work with What We've Got
The previous owner of our home had left his plants behind, so we took advantage of it and just worked around the plants that he had left behind. Also, we brought things over from our old home when we moved, such as a bird bath.
We Use Social Media Outlets to Our Advantage
I've been on Facebook before and have seen people list items, such as mulch, for sale at amazing prices. Basically, they just had some leftover and didn't feel like taking it back to the store, so we took it off of their hands. We got an amazing deal and it saved them a trip to the store. I also keep a close eye on the local sales pages and what not. There's usually some good deals that pop up in those groups.