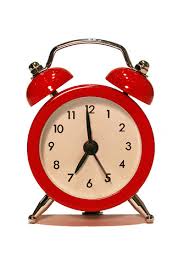 Ah, the lazy days of summer are quickly coming to a close. I'm not very happy about it, but such as life…
School morning around here are usually a frenzy of activity and confusion. My son, the Early Riser, is usually up at the crack of dawn before any of us, no matter what time he goes to bed. My daughter, the Night Owl, is an altogether different story.
She'd sleep until noon every day if I let her, and getting her up for school in the morning is not unlike trying to push a tractor trailer up Mt. Kilimanjaro. We usually need to resort to pulling her off the bed, and a glass of water is not altogether out of the question.
Our morning routine isn't all posteriors and elbows, though. Although it may not seem like it, we do have a routine. I swear! And it does work…for the most part.
I'm not much for routine, though, and neither is Night Owl Jr. (I would be the Sr.) Getting into a routine for us takes a little time, and we usually have to start our morning routine well before school starts. Right around now, in fact.
If you your school morning routine equates to chaotic madness and you want to start the year off right, it's important to start creating a morning routine before the first day of school. Here are some tips to help you get started.
1. Establish Your Morning Routine Weeks Before School
Have I mentioned that you should start establishing your school morning routine early? Yes? Well, it's definitely a point that bears repeating. They say – whoever "they" are – that it takes around three weeks before a new routine or habit becomes automatic. That means that you should start establishing your school morning routine well before school starts. Get up early, have breakfast, get dressed, and be ready to head out the door to catch the bus. By the time school starts, your morning routine should almost feel automatic.
2. Begin Your Routine the Night Before
Mornings are definitely a little less chaotic when you have less to do. Make your morning routine as painless as possible by organizing as much as you can the night before. Even during the last weeks of summer, you can have kids pick out their clothes for the next day and even get their breakfasts ready and make their lunches. When school starts, you'll need to add a few more things to your night-before routine, like gathering up school books and getting their backpacks ready.
3. Make Your Morning Routine Expectations Clear
The biggest problem in our school morning routine when my kids first started school was that they weren't fully aware of my expectations. That is no longer a problem. They now know exactly what needs to be done the night before and in the morning. The last weeks of summer are a great time to make your morning routine expectations crystal clear.
4. Create Lists or Schedules
When it comes to morning routines, lists and schedules are your friends! I just printed out three lists for our upcoming school morning routines as well as afternoon and evening routines. Having these routines in black and white can help keep kids (and parents!) on track throughout the school year. Since time is of the essence on school mornings, I've also listed times that each task must be done by. For instance, rise and shine by 6:00, dressed and made up by 6:30, breakfast by 6:45, and so on. I'm not normally that uptight in other areas of my life, but when it comes to my school morning routine, I have no other choice.
5. Consider Each Child's Strengths and Weaknesses
This is a tough one, and you'll have to use your own judgement here. Every child is good in some areas and worse in others. For example, we have one full bathroom in our house. My son, the youngest, is able to stay up later and still get up early in the morning. Since our morning routine is already packed, he usually takes a shower in the morning, while my daughter has to take one at night. She doesn't always think that's fair, but it's one less thing for us to try to pack into our morning routine. Since my youngest is also an early riser just about every day without fail, he also has the job of giving my daughter her first wakeup call.
More Frugal Living Resources: