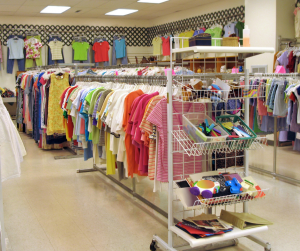 Last night we talked a little bit about thrift store flipping. Have you tried that out yet? Today let's talk a little bit about our tips for thrift shopping on a budget. It doesn't matter if you are thrifting to find something that you need, thrifting to flip, or thrifting for fun, saving money is always smart! 
Here are my top tips for shopping on a budget. Check these out to see if you already do any of these, or if you want to learn some new trips! Do you like to go thrift shopping?  I do! I mean, I have literally bought probably 75% of my clothing at thrift shops (and the rest have been bought at discount stores such as Ross Dress for Less).  The thing is though, I know it seems like it is super easy to save money when you are thrift shopping, but the reality is that thrift shopping can actually cost quite a lot of money these days, especially with the prevalence of higher end thrift stores that have been popping up all around us.
In order to combat spending too much when I go to thrift stores, I follow a couple of rules.  Here are my rules for the best ways to save money at thrift stores:
Tips for Thrift Shopping on a Budget
Set a Budget
I know I harp on this one a lot, but you absolutely have to set a budget before any and all thrift store trips. This is especially true if you are thrifting for the fun of it. It could be just about the same as gambling if you head into a store to just spend money on nothing in specific.
Buy Only What You Will Use
Even after all I do to save money and how often I talk about money saving tips, I still get caught up in the "It's a good deal so I have to buy it" mindset. I've had to really shift my thinking so that I make sure that I only buy what I will absolutely wear and/or use. It took me a long time buy I no longer am tempted to buy something just because it's cheap. 
See if Your Favorite Thrift Store Has a Discount Day
I have two favorite thrift shops. One changes the "discount color tag of the day" every week. Each week that special color tag is marked at half price. My other favorite store offers a deal where their specific color tag is just $1.99 on Mondays. So no matter what the item is, if it is Monday, it is only $1.99. A friend of mine found a beautiful and brand new rug that was normally priced at $300 for just $1.99. Trust me…discount days are worth looking into. 
What is your favorite savings tip for thrift shopping?