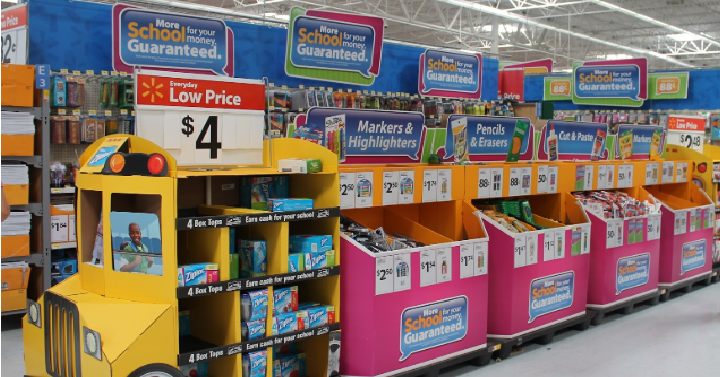 If you haven't started school yet, you probably are getting close. We start school in less than 2 weeks and I'm kinda freaking out. I should be more prepared than I am, but I'm not. If you are in the same boat, no worries. There is still time and plenty of deals available to save money. Here are a few tips and tricks you will want to remember when you shopping both online and in-stores.
Shopping Online Tips
When shopping online you will want to first go directly to the site. During this time of year there will no doubt be coupon codes and possibly free shipping available. For example, Under Armour is having a 25% off backpacks and free shipping on their site. That makes the backpacks cheaper than what you would find on Amazon or other selling sites. So check direct websites first and see what deals they are offering.
You will also want to see if the sites have email lists. If they do then they usually have a coupon code or deal for signing up for emails. Take advantage of those extra savings. If you are already signed up for emails then be sure to check your emails! There could be some extra savings you aren't aware of already available for you.
Whenever I am shopping online you want to take advantage of the free shipping. I either try to buy all I want in one big purchase to reach the minimum free shipping amount or I wait until they offer the free shipping.
In-store Shopping Tips
When shopping in-stores you'll first want to see if they have an app. Most stores will have apps and special coupons or deals available. Once you have the app you can check those out. For example, if you are shopping at Target for school supplies or clothing you can take advantage of their Target Cartwheel coupons as well as their other coupons on their app. You'll want to download these apps before you get in-stores because you can compare and see which stores may have the better deals.
Before you head in-stores see if they have coupons directly on their online site. You can either print those out or show them on your mobile phone when checking out in-stores.
This time of year a lot of stores are offering cash back ore credit with purchases. For example The Children's Place is offering a FREE $10 PLACE cash on every $20 that you spend.
Hopefully those tips will help you save a little more money when shopping for your back to school items. If you need some price points for this years school supplies, be sure to check out this post. Have a great school year!