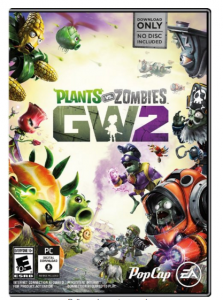 Today only, Amazon is offering $20 Off Plants vs. Zombies Garden Warfare 2!  You can get it for as little as $39.99, depending on the gaming platform you choose.
Product Packaging Notice: This product includes a download code in packaging, no physical media disc included.

Plants Attack – Bring the fight to the zombies for the first time in franchise history. Go on theoffensive as the plants in all-new 24-player Herbal Assault mode, or defend Zomburbia in 4-playerzombie co-op in Graveyard Ops.

Characters From All Ages – Bring even more strategic depth to this all-out botanical battle with 14total character classes, and over 100 playable plants and zombies from the past, present, and future.

Play Your Way – With over 7 lawn-inspiring game modes, play in crazy 24-player online battles inHerbal Assault or Gardens & Graveyards, choose the plant or zombie side in 4-player co-op, or gosolo playing against AI opponents or locally in split-screen co-op across any mode in the game (noXbox Live Gold or PS Plus required).

A Living PvZ World – The struggle for Suburbia has come into full bloom, with 12 maps burstingwith personality and humor, Zombossified cityscapes, and crowded airspaces, all layered withhidden secrets waiting to be discovered.
This item is eligible for free shipping on $49+ orders or on ANY order with Amazon Prime.  Don't have a Prime membership? Get a one month free trial! Click here for details!