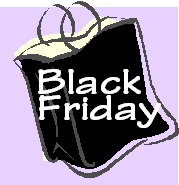 There are many misconceptions about Black Friday shopping. For instance, there's no need to wait in long lines, fight crowds or arrive at stores several days prior to the start of the Black Friday sale and miss out on the Thanksgiving Dinner with the family. So here are the top 5 things to know about Black Friday in all it's glory!
One of my favorite things about Thanksgiving is sticking the bird in the oven and then jumpin' on the computer before the Thanksgiving Day parades start and begin shopping for items on my list. I typically start at Amazon.com and then head to Target.com, Kohls.com, ToysRUs.com and finish up at Walmart.com.
By mid morning I've completed the majority of my shopping and feel relieved. I then head back in the kitchen to bast the bird and get started on the fixins'.
Over the past two years we've seen a lot of focus on stores honoring prices of their competitors. Take advantage of this! My advice is to take the ad(s) to one store with you and be sure that they price match. By doing so it will allow you to stay in one store and gather the majority of your items without running all over town.
Buy Early and Snag a Price Difference 
My little Black Friday shopping secret is…..purchase early! I typically head to my local Target store up to two weeks before Black Friday. I have the UPC's in my hand on the items that I will be purchasing to ensure that I am in fact getting the right product that will be offered on Black Friday.
I check out and place my receipt in the sun visor of my car. Around lunch time on Black Friday I head into my local Target, hand over my receipt and get the price difference on my items. It's really as simple as that.
You can do this too by staying up to date with all the latest Black Friday ads at BFAds.net.
If you must brave the crowds think to yourself "less is more". By this I mean don't wear a big heavy coat, because it'll become a burden and not helpful. Put your ID, cash or credit card into your pocket and leave your bag at home….you'll Thank me later!
 In addition, purchase the main ticket items. Skip the trinkets, pj's, dvd's and home décor. You can purchase the smaller ticket items online for the same price and receive free shipping. What you are heading to the store for is to save money on the larger ticket items such as televisions, tablets, computers and home appliances.
Understanding Doorbusters 
In the instance you are a Black Friday newbie Doorbusters can get confusing. However, they are a very important part on the way we shop on Black Friday. So here's what you need to know:
Doorbusters are items to get you into the store
Doorbusters are offered during a set period of time
There are a limited amount of Doorbuster items per store and will run out quickly
Doorbuster items can not be price matched (unless otherwise noted)
Doorbuster items draw crowds EARLY
Ok, so I have one more tip and that is to join Ebates.com. It's free to join, the site offers LOADS of coupons to use online and you get paid.to.shop.! To begin earning money you'll want to bookmark the site or place it on your desk top. Every time you begin to shop online head to Ebates.com first and then head to the retailers site. This will enable you to earn cash back on your online purchases.
What are your Black Friday shopping tips? Do you dare brave the crowds or do you find comfort in shopping from home in your jammies?!?