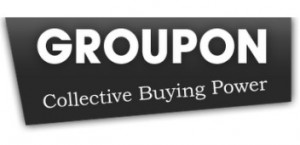 Here are today's top 10 Groupon Daily Deals for 11/30/12. Please read the fine print before you make a purchase.
Online Deals
Groupon Goods: Pay $39 for a Power Advantage children's workshop (TY-03200) ($99.99 list price).
Groupon Goods: Pay $15 for 40 personalized holiday cards ($83 list price).
Groupon Goods: Pay $15 for a Rock 'N Learn educational DVD set ($29.98 list price).
Groupon Goods: Pay $19 for a girl's Disney jacket ($50 list price).
Local Deals
Chicago: Pay $25 for $50 worth of Brazilian steak-house food at Brazzaz.
Houston: Pay $9 for a heel repair for men's shoes or boots and men's and ladies' Western boots(up to an $18.95 value) or $10 for heel-repair services for two pairs of ladies' shoes (up to a $20 value).
San Diego: See "The Nutcracker" presented by California Ballet at the San Diego Civic Theatre. For $12, you get one G-Pass for upper-balcony seating (a $25 value). For $25, you get one G-Pass for dress-circle or mezzanine seating (a $50 value).
Jacksonville: Pay $5 for $10 of yogurt at Yobe Frozen Yogurt.
Travel Deals
Groupon Getaways: From $69 a night, stay at the Mid Pines Inn & Golf Club in Southern Pines, North Carolina. Restaurants and lounges on site.
Groupon Getaways: Stay at the Four Points by Sheraton in Historic Savannah, Georgia. Two adults can stay starting at $64 a night.