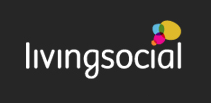 Here are the Top Daily Living Social Deals for 01/06/12. Many of these deals are national. It also does not matter what city you live in to get local deals. Please don't forget to read the fine print.
Online Deals
Richmond: $25 for 6 months or $39 for 1 year of Gold Key Access to online language courses of your choice from LiveMocha.  Choose from 38 languages!
Annapolis: $69 for a Diamond Ultrasonic Toothbrush with 3 brush heads, charger and ultraviolet sanitizer from Bling Dental.  Shipping is included.
Boston: $28 for an 11×14 or $39 for a 16×20 personalized canvas print from MyPix2Canvas.  Shipping not included.
St. Pete/Clearwater: $10 for $22 worth of reusable bags from Re-Pac Bags.  Shipping not included.
Local Deals
Sacramento: Very popular dining deal! Get your hands on a little slice of heaven with today's deal from Giovanni's Old World New York Pizzeria: For $10, you'll get $20 to spend on food and drink.
Queens: With today's deal from the beloved Austin's Steak & Ale House in Kew Gardens, start things off with a hearty meal. Pay $10 for $20 to spend on lunch, or $20 for $40 to spend on dinner.
Chicago: Put the gas on today's deal from Auto Care Super Saver for an unstoppable ride: a one-year package including three full-service oil changes, two tire rotations, radiator service, air conditioning performance test, and check engine light service for $39 (a $179 value).
Dallas: If you've been curious about handling a handgun but haven't yet been properly introduced, then today's deal from Texas Handgun Academy is the connection you'll be glad to have. For $39, get a three-hour introduction to handguns class.
Travel Deals
Mexico: Escape for two in a Private Pool Casita from January 1 to March 31 or July 1 to August 3 ($599) or April 8 to June 30 ($620) at the Las Brisas Acapulco.
Tennessee: Escape with a two-night stay for up to two guests at The Lodge at Buckberry Creek for $396.
Thanks, Stretching a Buck!