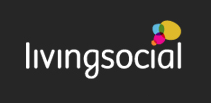 Here are the Top Daily Living Social Deals for 06/13/12. Many of these deals are national. It also does not matter what city you live in to get local deals. Please don't forget to read the fine print.
Online Deals
Orlando East Families: Pay $70 for $140 to spend on rocking animals from Rockabye.com.
Anchorage: Pay $15 for $30 worth of iPhone repair services.
Cobb County: It's time to smarten up your meals with today's wholesome deal from SMART Minute. Pay $60 for a SMART n' Lean sampler pack, which includes five breakfasts, five entrées, and five mini meals designed to help fuel weight loss (regularly $159).
Chicago: Pay $29 for a 16×20 gallery-wrap custom canvas print, $39 for a 20×24 print, or $45 for a 20×30 print (a $110, $140, and $159 value, respectively).
Some Local and Travel Deals
San Francisco: Upgrade your specs with today's deal: At Site for Sore Eyes, $20 gets you $150 to spend toward a complete pair of full-priced eyeglasses, plus a second pair at no cost.
NYC Downtown: Pay $99 for a smoothing keratin treatment with a take-home shampoo and conditioner that are both organic and sulfate-free (a $270 value) ay YGallery Salon in SoHo.
DFW Mid Cities: Grab today's deal from Wild Sushi: Pay $10 for $20 — or $20 for $40 — to spend on food and non-alcoholic drinks at this northwest Fort Worth restaurant.
Tampa Bay Area: Here's a deal from Tampa Bay Storm. Get one arena football ticket with club seating, food, soda, beer, and wine ($25), or one lower level ticket ($10).
Living Social Escapes: Escape for up to four people to Royal Palm Beach Resort in St. Maarten, a Caribbean hideaway known for its white beaches, decadent nightlife, and luxury accommodations for $599.
Living Social Escapes: Escape to the White Mountains with two-night stay for two, Sundays through Thursdays ($169) or Fridays and Saturdays ($199), in the Peaks, Amberian, or Mountain King Rooms at Greer Peaks Resort in Greer, Arizona.