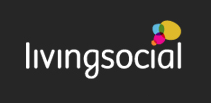 Here are the Top Daily Living Social Deals for 06/15/12. Many of these deals are national. It also does not matter what city you live in to get local deals. Please don't forget to read the fine print.
Online Deals
Nationwide Deals: Pump up your look with this deal from Folica.com: $85 for a Sedu Pro Ionic Ceramic Tourmaline Flat Iron with a two-year warranty, heat-proof mat and pouch, a 3.7-ounce Sedu Anti-Frizz Polishing Treatment serum, and included shipping (a $195 value).
Nationwide Deals: For $50, get $100 to spend on Lauren Ralph Lauren barware, dinnerware, and home décor at LaurenTabletop.com — an online destination boasting an assortment of dining pieces in modern, elegant, and traditional styles.
Nationwide Deals: Pay $20 for $40 to spend at WineEnthusiast.com, a one-stop online shop for wine accessories, and score a set of break-free wine glasses, an electric push-button corkscrew, or a red wine aerator, among other options.
Nationwide Deals: Pep up your smile when you spear today's deal for a Diamond Ultrasonic Toothbrush by Bling Dental Products for only $69 (regularly $219).
Some Local and Travel Deals
Houston: Practice your own sweet detective work with Murder By Chocolate: For $60, you'll get two tickets to a mystery dinner theater performance at the downtown location of Birraporetti's (a $120 value).
Los Angeles: See Cirque du Soleil's latest production, IRIS, at the Dolby Theatre. Choose an evening or matinée performance on select dates in June and July, and pay $75 for a center or side orchestra, parterre, or mezzanine one seat in the Category 1 section; or $55 for a side orchestra, parterre, mezzanine one, or mezzanine two seat in the Category 2 section.
Chicago: Today's deal is from the Chicago Race Factory. Zoom over to this indoor track in Bedford Park and pay $30 for three high-speed go-kart races with use of a headset (a $60 value).
New York City: Today's refined deal is from Burton & Doyle Steakhouse in Great Neck. Pay $60 for $120 to spend on thoughtful dishes and refreshing libations to create a meal that's sure to go gown in history.
Living Social Escapes: Escape to St. Louis, Missouri, for a one-night stay for two at the Seven Gables Inn for $109.
Living Social Escapes: Visit one of the East Coast's most popular beach destinations—coming in second on the Travel Channel's list of the Top 10 US Beaches—with this week's Escape to Aqua Beach Inn in Myrtle Beach, SC for $219.