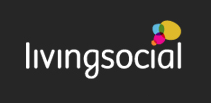 Here are the Top Daily Living Social Deals for 07/24/12. Many of these deals are national. It also does not matter what city you live in to get local deals. Please don't forget to read the fine print.
Online Deals
Chicago Families: With today's deal from MugOnMug.com, get two 11-ounce mugs personalized with the photo of your choice for $14 (regularly $30); or, get two 15-ounce mugs for $16 (regularly $34).
Huntsville Shop: Pay $169 for a Brand-New NOOK Tablet™ – 8GB.
Nationwide Deals: Pay $20 for $40 to spend online on merchandise from Whiteyboard.
Nationwide Deals: Make learning as interactive as a playground with this deal from Kaplan Early Learning Company: $10 for $20 to spend online on educational toys, books, and supplies.
Some Local and Travel Deals
NYC Upper East Side: Grab a date and dine at the crown jewel of oyster central with today's deal from Eats Restaurant & Bar on Lexington Avenue: Spend $39 (regularly $102) and get two dozen oysters and two signature martinis at dinner.
San Diego: Pay $5 for $10 to spend on the space-age ice cream of Dippin' Dots at the Fashion Valley Mall.
Jacksonville: Pay $30 for a one-hour relaxation massage, and lie back while an experienced therapist uses long, flowing strokes to soothe your muscles and help increase your circulation (a $70 value).
Chicago: Come taste the wine with your main squeeze with today's deal from Life's A Cabernet. Get a wine and chocolate tasting for two, plus a bottle of wine, for $55 (a $113 value).
Living Social Escapes: Consider this week's Escape to Camel's Garden Hotel in Telluride, Colorado, a refreshing retreat that will quench your thirst for fun without draining your wallet. Bring a companion for three nights in a Select Room and receive a bottle of wine, daily continental breakfast, and a 20-percent discount on merchandise and bike rentals at Telluride Sports ($320).
Living Social Escapes: Just a couple of blocks from that famed street, LVH – Las Vegas Hotel & Casino serves as a true gem in the city's collection of casinos. Insert yourself into the sparkle of this world-class hotel in Las Vegas, Nevada and casino when you Escape for a two-night stay for two, Sundays through Wednesdays ($179) or Thursdays through Saturdays ($249), in a standard room.