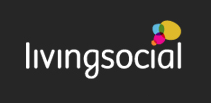 Here are the Top Daily Living Social Deals for 10/10/12. Many of these deals are national. It also does not matter what city you live in to get local deals. Please don't forget to read the fine print.
Online Deals (Find the online deals in Atlanta Nationwide)
Pay $40 for $80 to spend online on Halloween costumes from Vampire Disco. Or, pay $60 for $120 to spend on your choice of hundreds of women's and men's outfits.
Ensure your home is the talk (or scare) of the town with this deal from HalloweenMart: Pay $15 for $30 to spend on Halloween décor, accessories, and costumes.
With this deal from PersonalizationMall.com, you can find personalized Halloween gifts and décor to match when you pay $15 for $30 to spend on any item; or, you can tailor a gift to celebrate any friend or family member's individuality.
Conquer Halloween costuming with this deal: $15 for $30 to spend on merchandise or shipping from PowerCapes.com.
NYC Citywide: Give your workouts new meaning with today's deal from New York Sports Clubs. Pay $24 for a 30-day Passport Membership that allows you to avail yourself of these state-of-the-art facilities, which include swimming pools, racquet sports, and steam rooms (a $49 value).
Miami: Pay $25 for $50 to spend on food and drink at Imlee, An Indian Bistro, plus two Kingfisher beers, two glasses of house wine, or two sodas at this Miami New Times pick for best eats of 2010.
Los Angeles: For $22, gain admission to Dark Harbor on The Queen Mary — the historic steamship's annual fright fest — plus get a day pass to use on a future date (a $44 value). Head to the retired ocean liner at sunset on October 7, 14, 18, 21, 25, 28, or 31 to bravely enter six mazes filled with a passenger list of 225 monsters.
Dallas: Here's a deal from Prime Time Auto Care: Score a detailed hand wash for your car for $19 (regularly $40), or SUV for $25 (regularly $50). This salon for sedans has more than 18 years of experience serving the Dallas-Fort Worth area with hand washes that clean the nooks and crannies of your ride far better than a machine wash.
Living Social Escapes: Stay in Nevada's Eldorado Hotel Casino in Reno. Discover this golden getaway with a one-night stay for two, Sundays to Thursdays ($59) or Fridays ($99), in a Deluxe Room at this elegant family-owned resort in the heart of downtown Reno. You'll also get two show tickets, two breakfast buffets, and two welcome cocktails at Bar Centro.
Living Social Escapes: With this Escape, you'll get a one-night stay for two in a Deluxe King room in Santa Cruz, CA at Hotel Paradox, Sundays through Thursdays ($112) or Fridays or Saturdays ($133), plus a $20 food-and-beverage voucher.