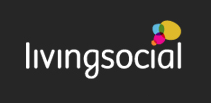 Here are the Top Daily Living Social Deals for 10/18/11. Many of these deals are national. It also does not matter what city you live in to get local deals. Please don't forget to read the fine print.
Phoenix Families: $6 for a 1-year subscription or $10 for a 2-year subscription to Kiwi magazine.
North Orlando: $29 for an 8×10, $39 for an 11×14 or $49 for a 16×20 photo-to-metal personalized print from Image on Metal.  Shipping not included.
Richmond: $20 for $40 worth of personalized signs, frames and more from Chick Lingo.  Shipping not included.
Southern Connecticut: $55 for 1 dozen premium steamed crabs with utensils, seasonings and paper from Blue Crab Trading Company.  Shipping is free to 9 states.
Westchester County: $15 for $30 for mineral or studio makeup from e.l.f. Cosmetics.  Shipping not included.
Local
Marin County: Shop at Buzy beez children's shoe boutique. With today's deal, you can outfit your young one's wiggly piggies in style: For $20, get $40 to spend on kids' footwear.
Birmingham:  Play at Ta Tumble U in Trussville. For $20, get four drop-in mommy and me classes (for kids 10 months to 2 years), or enroll your tots in gymnastics, football, basketball, T-ball or soccer lessons (a $48 value).
San Francisco: Get the trendy togs you deserve without sacrificing the comfort you need when you buy today's deal from Nest Maternity. You'll get $30 to spend on hip, high-quality clothing and accessories for $15 at this boutique on Divisadero, named the Bay's Best Maternity Store in 2010 by Bay Area Parent magazine.
Travel
Living Social Escapes: Escape to The Waynesville Inn Golf Resort & Spa, a picturesque property surrounded by the Great Smoky Mountains on one side and the Blue Ridge Parkway and Balsam Mountains on the other. Find a more relaxed state of consciousness during a one-day weekday ($129) or a two-night weekend stay ($254) for two, each including daily breakfast for two.
Living Social Escapes: Escape to St. James's Club Antigua. Bring your fellow navigator for a seven-night stay for two—including all meals and drinks—in a Royal Suite from now to December 23, 2011 ($3,200) or from January 3 to March 31, 2012 ($4,040). Or, choose a five-night stay for two in a Premium Room from now to December 23, 2011 ($1,925) or from January 3 to March 31, 2012 ($2,525).
Living Social Escapes: Escape to Columbia Cliff Villas, a luxury condominium hotel. Bring your getaway into focus when you choose between two weekday nights in a Pinnacle Suite or three nights in a Euro King Suite for $335.
Thanks, Stretching a Buck!