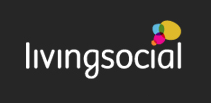 Here are the Top Daily Living Social Deals for 10/24/11. Many of these deals are national. It also does not matter what city you live in to get local deals. Please don't forget to read the fine print.
Boston: $20 for $50 worth or $35 for $75 worth of custom photo calendars from Picaboo.  Voucher may be used towards shipping.
Cleveland Eastside: $10 for $22 worth of reusable bags from Re-Pac Bags.  Shipping not included.
Indianapolis Families: $49 for 4 gym classes, 4 free plays, and lifetime membership to My Gym Children's Fitness Center.  Valid at any location nationwide.
Tulsa: $20 for $120 worth of SOTB signature line sunglasses, t-shirt, 2-year warranty + free shipping from SpecsOnTheBeach.com.
Local
Atlanta:  Rent a moonwalk from Booming Bouncers. Pay $65 (regularly $130) to rent a 13×13 inflatable bouncing castle or $75 (regularly $150) to rent a more elaborate, 15×15 booming bouncer from 8 a.m. to 1 p.m. or from 1 p.m. to 6 p.m.
Southern, CT: Spice it up with today's eel-of-a-deal from Matsu Sushi in Westport. Shell out $25 for $50 worth of Japanese food and drink.
Providence: Kids can play at Kite Tails Play Center. For just $15, get six play center visits for your little ones to romp, listen to stories, paint, meet playmates, and more — a $30 value.
St. Pete/Clearwater: Strut your style with help of today's deal from Florida Jean Company: Spend $25 and get $50 to splurge on brand-name denim.
Travel
Living Social Escapes: Escape for a one-night stay at Buena Vista Palace Hotel & Spa near Disney World in Florida. Get a 1 night stay for 2 in a Water View Room with a balcony, a buffet breakfast for 2 at the Watercress Café, and one ticket for the DisneyQuest Indoor Interactive Theme Park.
Living Social Escapes: Stay at the Jakes Hotel in Jamaica, a Caribbean retreat that invites you to commune with nature in all its eclectic glory. Choose to spend five nights in the garden-view Conch or Coral Rooms ($525), with breakfast for two each morning and two treatments from the resort's Driftwood Spa.
Living Social Escapes: Here is a deal from Chinatour.com International. Get an 8 day tour of China for one guest including: Round-Trip International Airfare from JFK to China, domestic airfare from Beijing to Shanghai, and all ground transportation, a three-night stay at Beijing's Oriental Bay International Hotel and much more.
Living Social Escapes: Spend two nights imagining your own Whirled Peace at the historic The Stowe Inn in Vermont. Your stay in a standard or deluxe room in the main inn comes complete with breakfast each morning, two craft beer tastings, 1 p.m. late checkout, a nightly appetizer at the River House Restaurant, and an array of tours during the week* ($316) or weekend** ($390).
Thanks, Stretching a Buck!