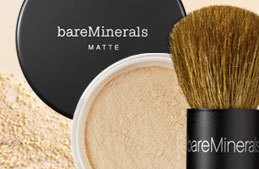 Are you planning a trip to the mall this weekend?  Here are the top five mall freebies and deals for you to check out while you are there:
1._ JCPenney is offering a free 10 day sample of Bare Minerals plus a free brush.  Head to Sephora counters inside JCPenney locations to claim this freebie.
2._ Old Navy is offering $5 each swim and shorts for the whole family, this weekend only.  Take one of those pesky Old Navy coupons to save even more on your purchase. The
3._ Gap is offering select men's and women's jeans for $19.99.  This weekend in stores only.
4._ Both Carter's and Oshkosh stores are offering an additional 20% off your $50 purchase with these coupons: Oshkosh and Carter's.
5._ Need to grab some baby items?  Babies R Us has this coupon for $5 off $25 purchase available.  Toys R Us is holding a "Red Hot Bonus Day Sale" with an extra 20% off all clearance toys, clothes and shoes.  You can also find some Huggies coupons in the back of these flyer.  These can be combined with manufacturer coupons for even more savings.  Can anyone confirm if you can use these TRU Huggies coupons at Babies R Us too?
Happy Savings!