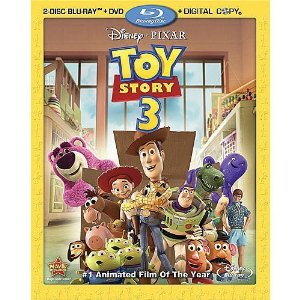 Amazon is offering a $4 credit on certain DVDs when you rent that same movie on Video on Demand.  There is a great deal to be had on Toy Story 3 DVD:
Then purchase the Toy Story 3 DVD for $9.99 but because you rented the movie a $4 credit will apply to your order making it only $5.99.
The movie ships free with Amazon Prime if you have it through Amazon Mom or Amazon Student.  This is such a great deal and the cheapest I have seen this movie.  I paid $11 for our copy.  I don't usually buy DVDs but I totally loved this movie.  Although I already have it I am picking up another copy for my nephews.
Thanks Couponing to Disney!