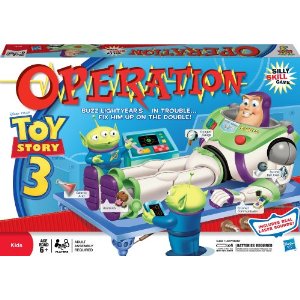 About two weeks ago Toys R Us offered the game Toy Store Operation for $1.  For a time this game was available for order online.  If you were one of the ones who ordered online and your order got cancelled due to insufficient stock, check your email.  Yesterday I received an email letting me know the reason of my cancellation and offering a free $5 off code to use in my next order.
The subject line of the email is: Important Information Regarding the Cancellation of Your Operation Buzz Lightyear Game.
Don't delete it!  My email went to my husband since I used his Paypal account to pay for my order and he had already trashed it.  Thanks to reader Tracey for letting me know about this email, I was able to get my free $5 back from the trash.