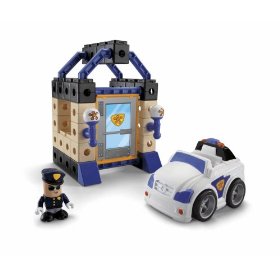 Toys R Us has the Fisher Price Trio Building sets on sale this week: buy two get one free.  Use the $5 off printable coupon to get two free when you buy one.  Here's the deal:
$14.99 wyb 1 TRIO Watch Tower building set
$14.99 wyb 1 TRIO Police Station building set
$14.99 wyb 1 TRIO Siege Tower building set
=$44.97
-$15 when you use three $5/1 TRIO coupons
$14.99 store offer discount for buying two and getting one free
=$14.98 for three TRIO building sets.  Thanks Saving Money in WA!
Ugh! So jealous! I would really love to have a TRU near me to get this for my four year old. Happy Savings!