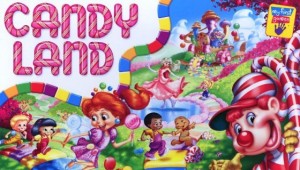 Starting tomorrow 11/8 and through 11/14, Toys R Us has Hasbro Games on sale, plus the store is offering a $10 gift card when you buy $25 or more in Games. These are the games included in this sale and their prices:
$3.99
Candy Land, Chutes/ladders, Ants in Pants, Don't Break The Ice, Memory, Hi-Ho Cherry-o
$7.99
Clue, Boggle Jr, Rubiks, Scrabble Jr, Yahtzee, Monopoly Jr or Deal
$9.99
Mouse Trap, Scrabble, Perfection, Connect 4, Boggle, Perfection
There is also a rebate being offered by Hasbro when you purchase certain Hasbro games at Toys R Us ONLY. With this rebate you get money back when you buy a Hasbro game, limit to one rebate per game for up to $69 in savings. See the rebate form here for more details.
This is how you can combine the gift card offer and the rebate to get five games for $4.95
$9.99 when you buy one Scrabble or Connect 4
$15.96 when you buy four of these $3.99 games: Candy Land, Chutes/Ladders, Ants in Pants, Don't Break the Ice, or Memory (remember they must all be different games)
Pay $25.95 plus tax out of pocket then you will get:
$10 Gift card back from Toys R Us
$3 rebate for Connect 4 or Scrabble
$2 rebate for each of the four $3.99 games you chose
For a net expense of $4.95 for the five games.
Thanks My Frugal Adventures