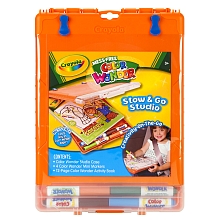 Toys R Us is offerig select Crayola items on sale buy one get one free.  This sale is available through 8/14.  In addition to that, you can also get a FREE Crayola Glow Color Explosion Markers (12.99 value) with ANY Crayola purchase of 9.99 or more. Here is the deal Mary emailed me:
Buy two Crayola Stow & Go kits $9.99
Buy one Crayola Glow Color Explosion $12.99
-$9.99 deducted by the buy one get one sale
-$12.99 deducted by the free item promotion wyb something $9.99 or more
Pay $9.99 plus tax for three Crayola items!
I love this! I have a niece that loves coloring and I was looking for a Crayola deal for her Birthday present.
Thanks Mary!