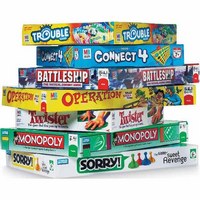 This week Toys R Us has Sorry and Monopoly games on sale for $7.99.  Plus when you buy two you get an additional game free.  Certain areas of the country got a coupon for $4/1 Hasbro Games in the Parade Magazine included in their Sunday Newspapers.  You could do this:
Buy three Sorry or Monopoly Games $7.99
Use three $4/1 Hasbro Monopoly, Life, Sorry, Clue (IE) Printable (FF) Rolling or from 9/19 Parade Magazine
– $7.99 deducted by buy two get one free promotion
Pay $3.98 plus tax out of pocket for three games
Using three coupons may vary dependent on the cashier processing your transactions. While you can use one coupon per item, some cashiers may not allow the use of a coupon on the free item.
This week also Leapfrog Tag books are on sale buy two get one free. Use three$4/1 Leapfrog Tag coupons here and here. Pay $9.98 for three after coupons and buy two get one free sale.  There is also a $5 off $25 purchase coupon that you can use to make these deals even better.
Thanks Alan for the deal!