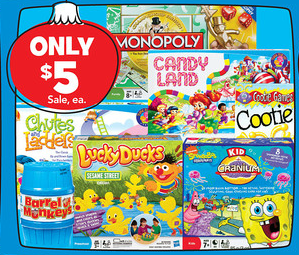 I just wanted to remind you that Toys R Us is having a huge Hasbro Sale.  Stop by your local store to grab the Toy Story Memory Game for just $1 (limit 2 per household).  Plus, get a $10 Gift Card with a $35 Hasbro game Purchase or $15 Gift Card with a $50 Hasbro Game Purchase. 
To add to your savings, there is a REBATE offer (in the form of a prepaid card) from Hasbro when you purchase 2 or more of select games. Games include: The Game of Life, Monopoly, Scattergories, Pictionary, Scrabble, Yahtzee, Hungry Hungry Hippos, Jenga, Twister, Connect 4, Elefun, and Operation. Check out the Hasbro Rebate Offer here.
The rebate allows up to 12 purchases so if you can get the maximum back in this deal:
Buy (12) Hasbro Monopoly games (pictured) – $5 each
Pay $60, get back $15 Gift Card with a $50 Hasbro Game Purchase
Submit $40 Rebate offer (wyb 12 games)
That works out to $5 for all 12 or just 42¢ per game after gift card and rebate!  This is a great way to stock up on games for yourself or a fabulous donation for the upcoming toys drives!
Thanks Krazy Coupon Lady