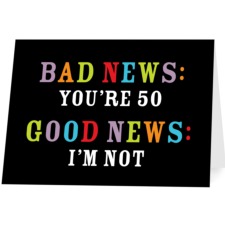 Through Today, you can get a FREE Birthday card for NEW Customers only at Treat.com!  Just use the code TREATSEPTBDAY and enjoy a free, customized card. Even if you don't have an event right now you can grab this offer now and hold onto it.
Here is how it works:
You choose your card from several Birthday designs.
Personalize it with photos, nicknames, inside jokes, whatever you want to add. This is your chance to make it YOUR card. Be creative. Be funny. Be Sappy.
Use the code TREATSEPTBDAY to get this special deal.
This sale ends tonight at 11:59pm PT, so act fast!
Note: You can choose the "Send it to me first" shipping option to receive the card free. If you choose "Mail it directly to the recipient," you will be charged $0.44 for postage. Limit one per household. You will also be asked for your credit card to verify your identity and prohibit fraud, but you will not be charged for a free card if you mail to yourself.