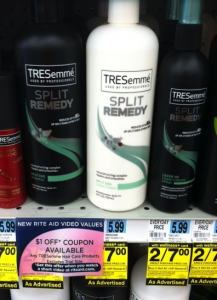 As I mentioned in my Rite Aid weekly mathups,  you can get Tresemme Split Remedy or Naturals for just $0.50 ea.  Check your 3/24 Red Plum insert for a $3/2 Tresemme coupon and grab the following deal:
Tresemme Hair Care – $3.50, Get a $2 +UP Reward when you buy 2
Use $3/2 TRESemme Platinum Strength, Keratin Smooth, Split Remedy or Naturals Product, exp. 4/21/13 (RP 03/24/13 R)
OR Use $1/1 Tresemme Hair Care Item (RA Video Values, March)
Pay $3, get back $2 +Up Reward
That works out to be a$1 total or just 50¢ each after coupon and +UPR!  Take a look at the other Rite Aid deals here.
Thanks Rite Aid 101