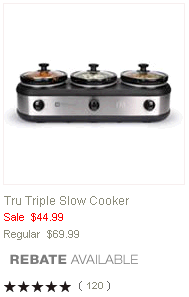 Kohl's
has some great deals on slow cookers and roasters right now. The Tru Triple Slow Cooker above typically sells for $69.99, but it's on sale for $44.99. There's also a mail-in rebate for a $15 VISA gift card, making the price $29.99. However, you can also save an extra 15% when you enter the promo code ENTERTAIN and you can save another 15% if you buy it with your Kohl's card.
So…
$69.99 – Original price
$44.99 – On sale
$38.24 – After 15% off ENTERTAIN promo code
$32.50 – After 15% off if you buy with a Kohl's card
$17.50 – After mail-in rebate
You save: $52.49
Not a bad deal, I'd say, especially if you're going to be buying one anyway! Of course, you'll also have to pay tax and a small shipping charge if your order is under $50. Check out all of the slow cookers and roasters at Kohls.com
 to see if you can find any other great deals for your kitchen or for gifts this season.
Keep in mind, though, that the promo code is only good for today and tomorrow. Your receipt or packing slip for the rebate must also be dated between November 8th and 23rd to qualify.
Find more great deals in the Kohl's Black Friday ad!