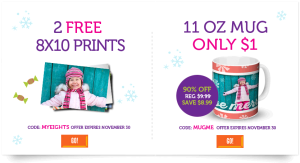 Yet another York Photo deal!
Today through tomorrow, November 30th, you can get two free 8×10 prints for a buck or an 11 ounce coffee mug for a buck.
Just head over to York Photo, choose a deal, and upload your pictures to get started. Enter the code MYEIGHTS to get your two 8×10 prints for $1, and enter the code MUGME to get your photo mug for $1. Shipping will be extra, but York Photo shipping charges are very reasonable.
This offer is only good for new customers, and it ends tomorrow, November 30th.