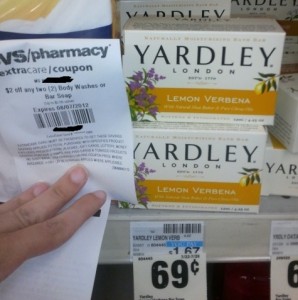 It has been reported that many of you are getting a CVS CRT coupon from the coupon kiosk machine for $2/2 ANY Body Wash or Bar Soaps (exp 8/7).  Not everyone receives the same coupons so let us know if you were a lucky one!  If one printed for you then you can get 2 free Yardley Bars Soaps!  Here are the details:
Buy (2) Yardley Single Bar Soaps – $0.69 each (sale price)
Use $2/2 ANY Body Wash or Bar Soaps CRT Coupon (exp 8/7)
2 for Free after coupon!
There is also one for CVS brand children's gummy multi vitamin free (up to $6.29) CRT coupon printing as well. Thanks Renee!
Check out all the best CVS deals here before you go!
Thanks This Mommy Saves Money