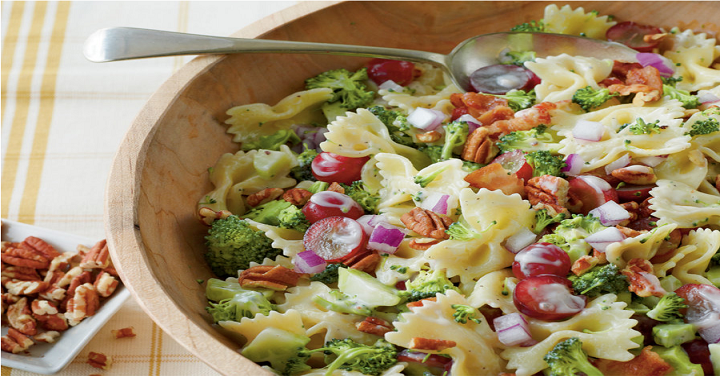 I love Memorial Day as we always get together with extended family for a BBQ! Everyone signs up to bring different side dishes and everyone brings their own meat to grill up together. But sometimes I'm busy running around with the kids celebrating so there's not much time to whip anything up in the kitchen. So I've found some quick and easy side pasta salads that we love and hopefully you will to!
Broccoli, Grape & Pasta Salad
1 cup chopped pecans
½ (16oz) package bow-tie pasta
1 pd fresh broccoli
1 cup mayonnaise
1/3 cup sugar
1/3 cup diced red onion
1/3 cup red wine vinegar
1 tsp salt
2 cups seedless red grapes (halved)
8 cooked bacon slices (crumbled)
Preheat oven to 250 degrees. Bake pecans in a single layer in a shallow pan 5 to 7 minutes or until lightly toasted and fragrant, stirring halfway through. Prepare pasta according to package directions. Meanwhile, cut broccoli florets from stems, and separate florets into small pieces using tip of a parking knife. Peel away tough outer layer of steams and finely chop stems. Whisk together mayonnaise and next 4 ingredients in a large bowl; add broccoli, hot cooked pasta, and grapes and stir to coat. Cover and chill 3 hours. Stir bacon and pecans into salad just before serving.
Macaroni Salad
Macaroni Noodles
Cucumbers
Cherry Tomatoes
Celery
Mayonnaise
Seasoning Salt
So this one you're really just eye balling. So cook the noodles according to package directions. I'll usually cook a whole package for a BBQ. Then while that's cooking I'll chop up the cucumbers, half the cherry tomatoes and slice the celery. After combine those all into one bowl with your cooked to the touch noodles. Then start with a small amount of mayo (for one package I might start with ¾ cup of mayo) and sprinkle with seasoning salt. Mix together well and taste test. I'll continue adding mayo and seasoning salt until the desired taste. The refrigerate for a couple hours before serving.