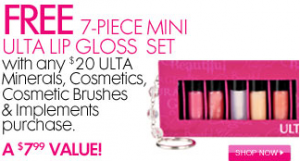 I don't know if you had a chance to take a look at the Ulta Deal I shared with you earlier. But I just wanted to share this other deal idea from Heather.  You can get a set of seven mini lipglosses when you spend $20 or more.
* Login or sign up to your Ebates account
* Once logged in search for Ulta and click through to start shopping there.
* On the front page click on the image that advertised the free mini lipglosses and shop for $20 in items.
* At checkout use the code EBATESJUNE10 to get $10 off your order. You could pay as little as $15.95 for your order and that includes shipping, the free mini lip gloss set and whatever items you added to your cart.
* Finish the checkout process and wait for your delivery.
Thanks Passion for Savings!