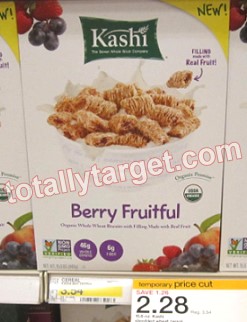 There is a new unadvertised deal at Target you may want to check out.  Now through 5/25, Kashi Berry Fruitful cereal is on temporary price cut for $2.28 (down from $3.54).  In addition, there is a new Target Cartwheel savings offer you can stack to do the following deal:
Buy (2) Kashi Berry Fruitful Cereal – $2.28 (PC 5/25)
Use 10% off Kashi Cereal Target Cartwheel Offer (exp 6/1) (deducts $0.46)
PLUS Use $2/2 Kashi Cereals
Pay $1.05 each after coupons wyb 2
You can also grab this deal if you prefer:
Kashi Heart to Heart Honey Toasted Oat cups $1.02-$1.35 (Regular Price)
Use $2/2 Kashi Cereals
Pay as low as $0.02 each after coupon
Unadvertised deals may vary plus pricing and availability may vary by region.  Your store may have other flavors included.  Take a look at the other Target deals here.
If you aren't familiar with the new Target Cartwheel savings program you can check it out here.
Thanks Totally Target