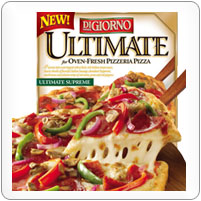 I was reading one of my favorite blogs, when I found this deal.  According to Erin, and many other people I have seen this deal mentioned in several forums, this week if you buy a Digiorno Pizza for $3.99 each you get a free 2 Litter bottle of Coke.  The soda is deducted at checkout automatically.
To make the deal even better, Erin got lucky and traded for some coupons for $5 off two DiGiorno pizzas.  She paid $1.49 for the whole thing!  Now, I have read these coupons are available at some grocery stores but they are only good in the following states: CT, HI, MA, MI, NY, OH, OR, TX and VA.  If you don't leave in those states, I have also found a tearpad of coupons for $1 off two DiGiornos at my grocery store.  This tearpad has five other coupons in it for Coke and other Kraft products.
You can find tags for the promotion at your local Target.  However, if you are unsure whether your store is participating or not, you can scan the pizza at the price scanners found around the store.  When you do this, the screen should say "Special Purchase" to the right of the product information. Check out the rest of the Target weekly deal at Stretching a Buck.
Enjoy!