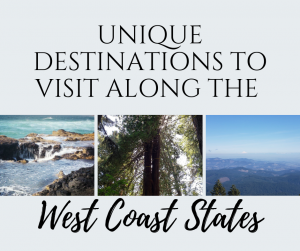 It is spring break season and rapidly approaching on summer vacation. Do you have any road trip plans in the weeks or months ahead? We are kind of doing some things on the fly this year and in the process I have started looking for fun and unique places to visit throughout the country. I am big into nature destinations, and the bonus there is that they often cost less than commercial vacation destinations.
Eventually I am going to try and find more and touch on unique destinations throughout the country, but today I'm going to talk about some super cool and unique destinations to visit along the West Coast region of the country.
Unique Destinations to Visit Along the West Coast States
Thor's Well is a super cool and very unique sinkhole that is in the rocks at the edge of the Pacific Ocean. I promise you it's like nothing you have seen before. It's a little dangerous though so keep hold of the kiddos here! 
Here is a really great list of off the beaten path places to visit in California! I had fun just looking at this post and now I'm off to learn more about those underground LA tunnels! 
Wallowa Lake may seem like it's quaint and off the beaten path, but this natural oasis will surprise you with the amount of tourists you'll see. Not to worry though, they all love the place as much as you will. 
I am particularly excited about this list, because I'll be visiting Burney Falls in the next couple of weeks and it has been on my bucket list for about 5 years! I had no idea there were so many other cool waterfalls in Northern California! 
There is a mountain peak in Oregon that offers you stunningly clear views of 10+ mountain ranges throughout the state and beyond. It's the perfect place to quietly be reminded of just how beautiful nature can be.
Is there any place along the West Coast that you would recommend visiting? I'm down for some adventures this year and I'd love to hear all about them!