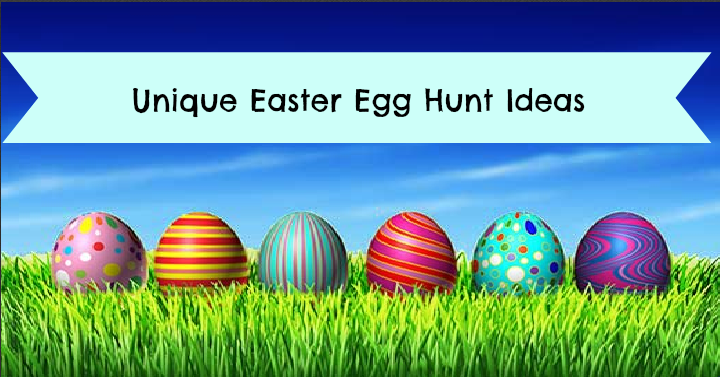 Easter is coming soon. Are you ready? I have to admit, when I was little I was never super fond of Easter Eggs hunts. It seemed like I was always the one at the end who couldn't find those last few eggs. It was only months down the road that those eggs would show up! So that's where they were! However, being a mom of little kids, I have to give in and do egg hunts every year. Most years it seems like we end up doing one with each side of the family so MORE egg hunts for us! I will admit it is pretty fun to see the kids eyes light up with excitement as they find those eggs. So, if they are happy, I'm happy.  Here are 10 unique Easter Egg hunt ideas that just may have you (and me!) a little more excited for egg hunts this year.
Scavenger Egg Hunt: Write a clue in the first egg that will direct them to the next egg. Continue with this for however long you want until they get to the last clue with the prize/presents at the end. You could even make a scavenger hunt for each kid if they are old enough to do them on their own.
Color Code Eggs: This is a tradition in my family. Every Easter morning we are given a color that is our color for the egg hunt. That means we can only find those eggs that have stickers with our color on it. If we see an egg with a different color sticker on it, then we leave it and don't tell anyone. We have a number of how many eggs/prizes we get to find. This helps with those little kids that may need some "easy" hiding places. Put those out in the open and hide the older kids a little harder. This way you can also get the same amount of eggs/prizes for every kid. No fighting!
Gold Easter Egg: Tell the kids that during their hunt they each get to find one Gold Easter Egg. Inside put something special and personal. Like "Date night with mom & dad" or "Late Night with Friends" or "Let's go to the Movies!" Something that would help you spend more time with them. This gives a little more excitement to the hunt as well.
Tag Team Easter Egg Hunt: If you are having an egg hunt with a big family, this is super fun! Split the group into even teams. Then you say "Go!" the first person from each team runs and finds an egg and brings it back. They tag the next person on the team and then they go find an egg. The first team to get through their whole team either once or twice (depending on how many eggs you have) wins.
The REAL Egg Hunt: Does anyone ever use REAL eggs anymore? I feel like they are mostly plastic now days. But with this hunt you need to make and dye Easter Eggs. Which is half the fun, right?? Once they are dyed and decorated then hide them in designated location. Have each person try to find a certain number of eggs and none of them can be ones that they made. This is super fun at the end to see the designs of other people.
In the Dark Egg Hunt: This is super fun for those older kids that may think they are done with eggs hunts. Put small pieces of glow sticks in Easter eggs and hide them around the yard when it's dark outside. You can then let them outside and see who can get the most or just let them go for it. It makes it pretty cool looking too.
Let's Move! Egg Hunt: In each egg have an action or exercise that they need to accomplish before going on to the next egg. It's funny to watch them go find the eggs. You'll suddenly see them start doing jumping jacks, somersaults, cartwheels, jumping and running. If you need to get energy out, this is a great way to do it!
Puzzle Egg Hunt: Buy a puzzle that is appropriate for your age group. When you buy it you need to put it together first and then write your secret message on the back. It could be a rhyme or poem describing where they can find their end treasure. Then put 1 piece of the puzzle in each egg. The kids have to work together to find all of the eggs and then put the puzzle together. They then need to solve the question on the back of the puzzle and go find their prize. So fun!
You can fill the eggs up with candy or small toys from your local store, Amazon or Walmart or Target.