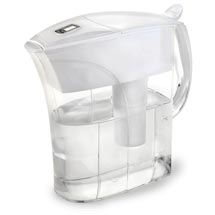 UPDATE:  It looks like it took Brita only hours to ake back what they said.  They posted this morning (1/20) that they WILL be honoring all rebates.
I wish I could say I have good news and bad new to share with you tonight.  But I really only have bad news.   Unfortunately Brita has posted on their Facebook page that they no longer will be honoring the $10 mail in rebate they had available.
According to some statements made by their Facebook representative, they will honor honor rebates that have already been mailed in.  But not anymore as "their supplies have been exhausted."  This seems to be a sudden decision on their part as the rebate had an expiration date of 3/31/12.
I wanted to make you aware of this, in case you have not mailed your rebate form yet.  If you have already submitted the form, it may take a while to get back your rebate.  I know several of you let me know that you submitted back in November and didn't get your check back until about 6 or 8 weeks later.
Thanks Lisa and Saving Cents with Sense!