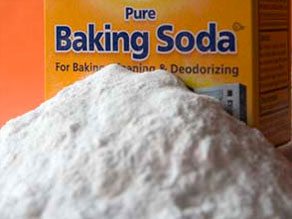 This is the third post in my "Uses for Baking Soda" series where I show you multiple ways you can use baking soda. As I said in the previous posts in this series, baking soda has multiple purposes and can be used from everything from cleaning chrome to cleaning your teeth. When you know the multiple uses for everything, you can save a ton of money, which is what I'm helping you do in this series.
In the previous entries in this series, we went over the following uses for baking soda:
Uses for Baking Soda – Part 1
Using Baking Soda to Get Rid of Smelly Trash
Using Baking Soda to Clean Your Couch
Using Baking Soda to Clean Your Produce
How to Get Rid of Clogged Drains with Baking Soda
Clean a Stinky Garbage Disposal With Baking Soda
How to Get a Clean Sink With Baking Soda
Uses for Baking Soda – Part 2
Clean Your Washing Machine With Baking Soda
Clean Your Coffee Pot With Baking Soda
Clean Your Grill With Baking Soda
Clean a Burned Pan With Baking Soda
Clean Chrome With Baking Soda
If you haven't read those articles, I'd highly suggest you do, so you can get the most out of baking soda. Below, I'm going to go over even more uses for baking soda.
Clean Silver Jewelry With Baking Soda
Do you have some silver jewelry in your jewelry box that doesn't shine like it used to? If so, you can make some baking soda paste by mixing baking soda with a bit of warm water and then rubbing the paste on your jewelry with your fingers or a very soft brush. Once finished, your jewelry will have that shine again!
Make Flowers Last Longer With Baking Soda
Baking soda can make freshly cut flowers live a longer life once they're in the vase. Simply add a teaspoon of baking soda into the water in the vase.
Make Your Shoes Smell Better With Baking Soda
If your kids play sports they will probably have some stinky shoes from time to time. Add a little bit of baking soda in their shoes and it will keep them from smelling. It's a bit gross doing this, but it's better than having the smell of dirty shoes radiating through-out your home.
Use Baking Soda as Toothpaste
Did you know that you can use baking soda as your own toothpaste and it works great, too! I don't use baking soda every day, but I do use it when I notice I have coffee stains on my teeth, because baking soda is an excellent teeth whitener. However, I do have friends that use baking soda to clean their teeth every day, instead of toothpaste. Make sure you talk with your dentist about this first, because everyone's mouth is different and baking soda may be too abrasive for you to use every day.
To make cleaning your teeth with baking soda easier, I keep a Ziploc bag filled with baking soda and simply dip my wet toothbrush in it.
Do you want even more ways you can use baking soda around your home? If so, make sure you stick around for part 4 in this series!