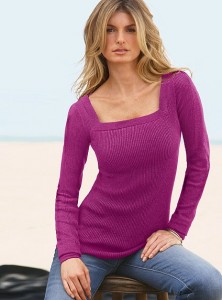 Just wanted to give you the heads up on this.  I know some of you have some VS Secret Rewards Cards that you got from buying the sweaters last month.  Well,today is the day to fmaximize them as Victoria's Secret is offering free shipping.  Just use the code SHIPFREE.  This is how you can get a Free sweater after your VS secret reward:
Once you are at the Victoria's Secret website search for item #244-859. or click on Clothing and look for other sweaters that are $12 or so
Head to check out and select or check where it says if you would be using an Offer Code:
Use SHIPFREE to get free shipping
Enter you VS Secret rewards card and pin #
Your total should be $0.00 plus tax after secret rewards and free shipping code.  Plus you will get 2% cashback from Ebates.  Don't want to bother with Ebates.  You can find the cheap sweaters here.
PS.  Does anyone know if you can use the $10 certificates from playing the game? I haven't won yet so I can't check.