Vinegar is one of those topics every frugal blogger has talked about at least once. I didn't want to break protocol.
Besides using vinegar to clean my bathrooms I love to use vinegar to clean my pots. Before I found out about vinegar's other uses I would spend a lot of time scrubbing greasy grime off cookie sheets or pans. Now I let these items soak in vinegar for a few hours (depending on grime level) before I scrub. Vinegar cuts through this grease and makes wiping it off a breeze.
For more than a thousand uses for plain old white vinegar check this site.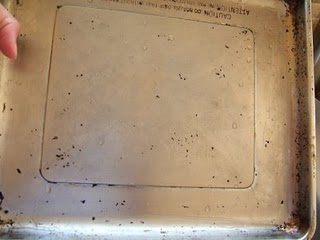 After picture (Vinegar doesn't return shine lost with everyday wear, sorry, but it's clean)