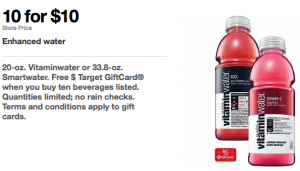 If you're a fan of Vitamin or Smart water, Target is selling 20 oz Vitaminwater or 33.8 oz Smartwater 10 for $10 with a $5 giftcard when you buy ten beverages. This offer is valid from 8/5 to 8/11 so that means you pay just 50 cents each after gift card! No coupons required!
Buy (10) Vitamin or Smart Water Beverages – $1.00
Pay $10, get back $5 gift card
Your cost is just 50 cents after Target gift card
Check out all the best Target deals here.
Thanks Clip and Follow