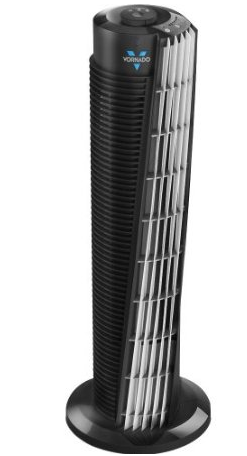 Today only Woot via Amazon offers this Vornado 154 Whole Room Tower Fan for $59.99.  Plus the item ships free.
Product Description

Unlike an ordinary tower fan, a Vornado tower circulator doesn't just blow air. Instead, it produces true whole-room air circulation using V-Flow Technology, exclusive to Vornado.

Typical tower fans oscillate due to a limited range of air movement, so you feel the airflow for only seconds at a time. With V-Flow Circulation, a high volume of air is continuously moving throughout the room, creating quiet, comfortable whole-room circulation. The Vornado 154 Tower Circulator features uniquely contoured air outlets that create a wide span of constant airflow, without the need for oscillation. A powerful, yet quiet motor pushes air up to 80 feet.>

The 154 Tower Circulator features a sturdy base, an energy saving timer, and 4-speed setting that allow you to tailor the airflow to your needs. The push-button remote control magnetically cradles to the top of the product, so it is always within easy reach. Includes a 1-, 2-, 4-, or 8-hour timer that ensures your fan operates in an energy-saving, efficient way.

Like all Vornado Whole Room Circulators, the 154 is backed by an industry-leading 5-year warranty. Model is made for 120 volts only.