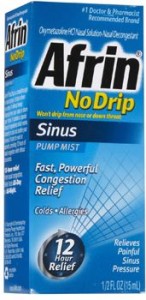 You can get a great deal on Afrin No Drip spray at Walgreens this week.  Through 12/1 Walgreens has Afrin nose spray on sale 2/$10.  There are manufacturer and store coupons to stack to get them for less than that:
Buy two Afrin No Drip Nasal Spray .5oz 2/$10
Use two$2/1 Afrin 12 Hour Nasal Spray or $1/1 Afrin Nasal Spray
PLUS use $2/1 Coricidin Cold Relief, 16 to 24 ct, or Afrin No Drip, .5 oz Walgreens IVC, November 2012
Pay $1 after coupons
You can check out other Walgreens deals here.
Thanks Wild for Wags!