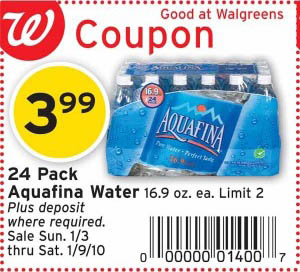 Walgreens is running a monthly register rewards promotion on certain Pepsi products:  Buy $20 in Pepsi products and earn a $10 register rewards at checkout.  One of the products included in this register rewards offer is Aquafina Water.  Aquafina Water is $3.99 each after in-ad coupon.  But this register rewards promotion is calculated before the use of this coupon.  Here's how you can get a good deal on this:
Buy four Aquafina 12 Packs $5.99 regular price
Use Walgreens store coupon to bring price down to $3.99 (will deduct $8.00)
Pay $15.96 plus tax out of pocket and earn a $10.00 register rewards back
Although the coupon says limit 2, it will be up to store management to enforce this limit. Thanks Bargain Buggy!
If bottled water is not your thing, I also have a deal for you.  Lowes, home improvement store, has Brita Pitchers on sale for $8.  Read here how you can get them for $3 after coupon.