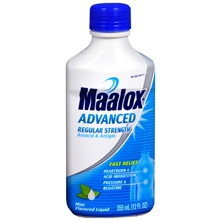 If you got that high value $10/3 Maalox coupon in the 7/17 SS insert.  You can put it to good use with this deal at Walgreens:
Buy three Maalox (90 ct.) or Liquid (12 oz.), $4.99 ($14.98)
Use one $10/3 Maalox, Gas-x, Prevacid or Benefiber, exp. 10-15-11 (SS 7/17/11)
Use $2/1 Gas-X, Maalox, Ex-Lax Chocolate Products Walgreens IVC (will deduct $6)
Better than FREE after stacked coupons
The coupons in the Walgreens monthly booklet expire at the end of this week (7/24), so this is the week to do this deal.
Thanks, Saving in Akron!