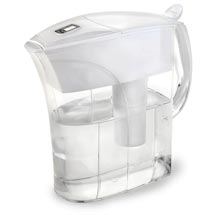 Update: Sorry guys, seems not many people have found this clearance item.  As usual clearance is not standard at every store.  But if you printed this coupo and have a trip planned to Target, swing by the area where they keep Brita filters as I saw reported those were on clearance there too.
Here's a clearance find you may be interested in knowing about:  Check out your Walgreens store to see if you can find the Brita filters on clearance for $8.49 each.  Use this $5 off one Brita filter printable coupon to pay $3.49 for each filter.  To make it even better, you will get a $3 register reward for every filter you buy (limit one per transaction).  You pay $0.49 for one Brita filter after coupon and register rewards.
Thanks Thrifty Mama!