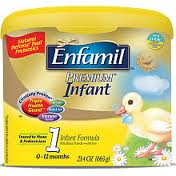 There are a few more cheap finds at Walgreens this week. First, if you are in need of Enfamil formula, be in the lookout for a mail in rebate form found in stores for $5 back by mail when you buy two cans of Enfamil formula. If you find this rebate form, you could do the following deal:
Buy (2) Enfamil, $21.99 (with in-ad coupon) ($43.98)
Use two  $5/1 Enfamil printable
Use $2/1 Enfamil coupon (Walgreens Infant Care)
Pay $29.98 Out of pocket
Submit $5/2 MIR (found on display)
Pay $12.49 ea. after stacked coupons and MIR
Here are more cheap finds.  I believe the buy one get one free sale on Schick products is a monthly sale and the price on the Optimum Oil is the regular price.
B1G1 Schick Hydro Razors $9.99
Use rwo $3/1 Hydro Razor printable
Pay $1.99 ea. after coupons
B1G1 Schick Hydro Shave Gel (8.4 oz.) $3.79
Use two  $1/1 Hydro Shave Gel printable
Pay $0.90 ea. after coupons
Optimum Oil Therapy, $5.29
Use $4/1 Optimum Care or Dark and Lovely Relaxer Kit, Optimum Oil Therapy, and Optimum Salon Hair Care Walgreens IVC
Pay $1.29 ea. after coupon
Thanks, Deal Seeking Mom!