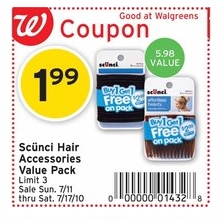 This week at Walgreens there is an in-ad coupon that makes scunci products $1.99 each.  Some of the products are ringing up buy one get one free.  Combine with the coupons, you can walk away with a good deal on these:
Buy two scunci products$5.98
-$2 deducted by the coupon to bring price of both items down to $1.99
-$2.99 deducted by buy one get one free sale
Pay $0.99 for two items after coupon  Thanks My frugal Adventures!
Look for BGLP next to price after item is scanned by the register to make sure the item is indeed ringing up buy one get one FREE.
Plus Courtney emailed me to share that she found the Lysol No Touch Hand Soap Starter Kit on clearance for $3.74.  There was a $3/1 Manufacturer coupon in the 7/11 SS insert plus the $5 IVC in the July coupon booklet that she used to get a super sweet deal. This may be something to check out at your store but as with any clearance find it may or may not be available at your own store.