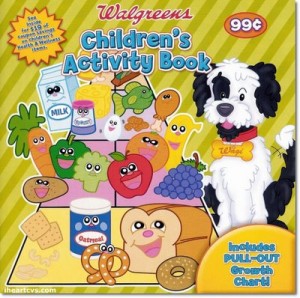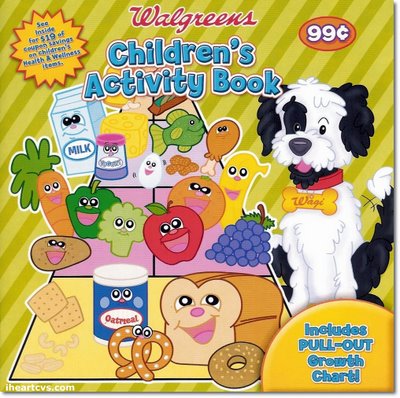 Remember that earlier I shared about the new Walgreens Children's Activity Book?  Well, above is what the book looks like.  The coupons don't expire until 3/30/10 and include the following coupons:
Benadryl $1.00
Braun ThermoScan $5
Crayola Color Explosion or Wonder Color $1.00
Gerber Tooth and Gum Cleaner $1.00
Huggies $1.00 (good to use in register rewards deals)
Lil' Critters Gummy Vitamins $2.00
Listerine $1.00 (good one to use with the RR deals going on now)
Neosporin $2.00
Tylenol $ 1.00
Zooth or Oral B Toothbrushes $1.00 (should make for free toothbrushes come the Holidays)
Walgreen's Allergy Relief $0.50
Walgreen's Ibuprofen $0.50
Thanks I Heart Wags!